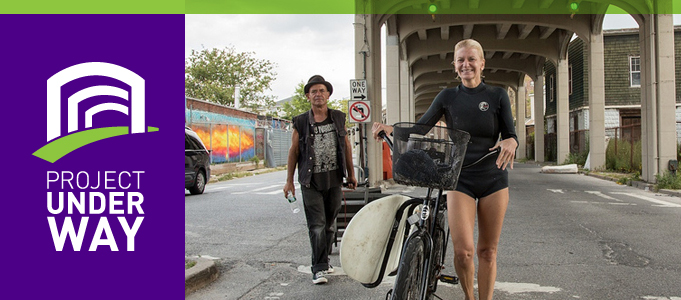 Since 2015, Rockaway Waterfront Alliance has led a community engagement process called Project Underway to actively engage residents, business owners, transit advocates and government agencies in working together to develop a plan to better utilize the Rockaway Freeway roadbed under the MTA A-Line from Mott Ave to Beach 116th Street.
Large portions of the freeway have been demapped, privatized and inaccessible to the public. If the community is not actively engaged in planning now it will continue to be divided into small parcels that will never be able to serve as a transit option.
Overall the freeway underpass is underutilized space that should be planned and designed in such a way that it can benefit the community by connecting both the east and west ends of the Peninsula together and provide a safer and more equitable route that people of all ages can use to get to school, work or home.
We very excited to share with you our latest brochure outlining community needs and the hopes for the project in reconnecting Rockaway through alternative transportation and a richer public realm. Follow the link for "A Better Way Thru Rockaway."
We believe this project will bring safer streets and improve the health of the community. Your support is crucial to the longevity and success of the project. Please take
our survey
to share your thoughts!